About Us
The Shish is a Kebabs takeaway in Hants. Why don't you try our Halloumi Burger + Chips or Pepsi?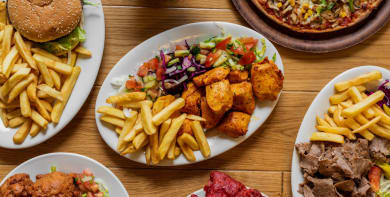 Reviews
500 reviews
Adam
"Great kebab"
23/09/2020
Laura
"Always fresh, hot, and tastes delicious. The team always look at our order notes ie for sauces and they always oblige"
18/09/2020
Cecile
"Very good food and amazingly early !!!"
18/09/2020
Menu
Whole Platter
1 whole chicken including 4 sides with 2 can drinks
£17.99
Jumbo Platter
2 whole chicken including 4 sides with 4 can drinks
£25.99
Ben & Jerry's 500ml Chocolate Fudge Brownie
£6.50
Ben & Jerry's 500ml Chocolate Cookie Dough
£6.50
Ben & Jerry's 500ml Caramel Chew Chew
£6.50
Ben & Jerry's Wich 80ml - Chocolate Cookie Dough
£2.40
Ben & Jerry's 100ml Chocolate Cookie Dough
£2.80
Ben & Jerry's 100ml Strawberry Cheesecake
£2.80
Ben & Jerry's 100ml Vanilla
£2.80
Chopped Mixed Salad Regular
£1.95
Chopped Mixed Salad Large
£3.70
Yoghurt Sauce (cacik) Regular
Cacik
£1.95
Yoghurt Sauce (cacik) Large
Cacik
£3.70
Lamb Donner Regular
(lamb, pitta and salad)
£6.99
Lamb Donner Large
(lamb, pitta and salad)
£7.99
Chicken Donner Regular
(chicken, pitta and salad)
£7.99
Mixed Donner Regular
(lamb+chicken, pitta and salad)
£7.99
Mixed Donner Large
(lamb+chicken, pitta and salad)
£9.99
German Lamb Donner
(lamb, turkish bread, garlic mayo and salad)
£9.99
German Chicken Donner
(chicken, turkish bread, garlic mayo and salad)
£9.99
German Mixed Donner
(lamb+chicken, turkish bread, garlic mayo and salad)
£9.99
Messy Lamb Donner
(lamb, chili, jalapenos, cheese, garlic mayo, turkish bread and salad)
£10.99
Messy Chicken Donner
(chicken, chili, jalapenos, cheese, garlic mayo, turkish bread and salad)
£10.99
Messy Mixed Donner
(lamb+chicken, chili, jalapenos, cheese, garlic mayo, Turkish bread and salad)
£10.99
Chicken Donner Large
(chicken, pitta and salad)
£9.99
Half Ass + Chips
(beef burger, cheese, lettuce, tomato, mayo)
£6.99
Fresh Chicken Burger + Chips
(chicken breast, cheese, lettuce, tomato, mayo)
£6.99
Single Veggie Burger + Chips
(veggie burger, cheese, lettuce, tomato, mayo)
£5.99
Alaska + Chips
(2 beef burgers, cheese, lettuce, tomato, mayo)
£8.95
Mexican + Chips
(2 beef burgers, cheese, jalapeno, lettuce, tomato, mayo)
£8.95
Rhodeo + Chips
(2 chicken breasts, cheese, lettuce, tomato, mayo)
£8.95
Hawaii + Chips
(2 beef burgers, cheese, lettuce, tomato, pineapple, mayo)
£8.95
No Meat + Chips
(2 veggie burgers, cheese, lettuce, tomato, mayo)
£8.95
Arizona + Chips
(beef burger, chicken breast, cheese, lettuce, tomato, mayo)
£8.95
Megastoke + Chips
(2 beef burgers, chicken breast, cheese, lettuce, tomato, mayo)
£9.95
Lamb Döner Burger
(Lamb Doner, cheese, lettuce, tomato, mayo)
£6.99
Halloumi Burger + Chips
(Halloumi, cheese, lettuce, tomato, mayo)
£5.99
Piri-Piri Lamb Doner
Lamb Doner, Salad, Pitta, Piri-Piri Sauce
£9.50
Piri-Piri Chicken Doner
Chicken Doner, Salad, Pitta, Piri-Piri Sauce
£9.50
Piri-Piri Mix Doner
Mix Doner, Salad, Pitta, Piri-Piri Sauce
£10.50
Lamb Shish (Skewer) Large
Cubed lamb, wrap bread & salad
£10.50
Chicken Shish (Skewer) Regular
Cubed chicken, wrap bread & salad
£6.50
Chicken Shish (Skewer) Large
Cubed chicken, wrap bread & salad
£9.50
Mixed Shish (Skewer) - Large
Cubed lamb & chicken, wrap bread & salad
£10.50
Kofte Kebab (Skewer) Regular
Kofte, wrap bread & salad
£6.50
Kofte Kebab (Skewer) Large
Kofte, wrap bread & salad
£9.50
Lamb Chops
Salad & wrap bread
£14.99
Lamb Shish (Skewer) Regular
Cubed lamb, wrap bread & salad
£6.50
Lamb Saute (Kavurma)
Lamb, peper, onion, rice, wrap
£8.99
Single Mixed Grill
Chicken, Lamb Shish, Lamb Doner, Rice, Salad, Pitta Bread
£14.99
Shish House Plate
Lamb/Chicken Shish, Lamb/Chicken Doner, Kofte Kebab, Rice, Salad, 2 Pitta Bread
£23.00
Family Plate
2 Chicken Shish, 2 Lamb Shish, 2 Kofte Shish, Salad, 4 Pitta Bread, Rice, Regular Chips
£35.00
Lamb Donner Wrap
Served with salad
£6.00
Chicken Donner Wrap
Served with salad
£6.00
Veggie Wrap
Served with salad
£6.00
Falafel Wrap
Served with salad
£6.00
Mixed Wrap
Served with salad
£6.00
Messy Lamb Wrap
Lamb with midium hot recipe and salad
£7.00
Messy Chicken Wrap
Chicken with midium hot recipe and salad
£7.00
Messy Mix Wrap
Lamb and chicken with midium hot recipe and salad
£7.00
Chicken Breast Wrap
Chicken breast, served with salad, mayo
£7.00
Halloumi Wrap
Halloumi cheese, served with salad, mayo
£7.00
Contact Us
Find Us
3 May Place, Hants, RG217NX
We deliver to
RG21, RG22, RG23, RG24, RG25, RG26, RG27, RG29