About Us
The Shish is a Kebabs takeaway in Hants. Why don't you try our Halloumi Burger + Chips or Pepsi?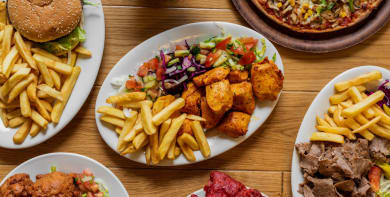 Reviews
515 reviews
MOHAMMED
"Tasty food always !!"
10/10/2020
Holly
"Arrived earlier than the ASAP time had given and the food was great! Huge portions, very tasty and came hot! My husband said it was the tastiest kebab he had ever had! Will definitely order again :)"
10/10/2020
James
"Can't order chilli sauce via just eat app (no option), but can be done by selecting no sauce and leaving a comment on payment screen. Staff were helpful when phoning. Would definitely use again."
09/10/2020
Liam
"Food was great, still hot and enjoyed by all. :)"
08/10/2020
Menu
Whole Platter
1 whole chicken including 4 sides with 2 can drinks
£17.99
Jumbo Platter
2 whole chicken including 4 sides with 4 can drinks
£25.99
Ben & Jerry's 500ml Chocolate Fudge Brownie
£6.50
Ben & Jerry's 500ml Chocolate Cookie Dough
£6.50
Ben & Jerry's 500ml Caramel Chew Chew
£6.50
Ben & Jerry's Wich 80ml - Chocolate Cookie Dough
£2.40
Ben & Jerry's 100ml Chocolate Cookie Dough
£2.80
Ben & Jerry's 100ml Strawberry Cheesecake
£2.80
Ben & Jerry's 100ml Vanilla
£2.80
Chopped Mixed Salad Regular
£1.95
Chopped Mixed Salad Large
£3.70
Yoghurt Sauce (cacik) Regular
Cacik
£1.95
Yoghurt Sauce (cacik) Large
Cacik
£3.70
Lamb Donner Regular
(lamb, pitta and salad)
£6.99
Lamb Donner Large
(lamb, pitta and salad)
£7.99
Chicken Donner Regular
(chicken, pitta and salad)
£7.99
Mixed Donner Regular
(lamb+chicken, pitta and salad)
£7.99
Mixed Donner Large
(lamb+chicken, pitta and salad)
£9.99
German Lamb Donner
(lamb, turkish bread, garlic mayo and salad)
£9.99
German Chicken Donner
(chicken, turkish bread, garlic mayo and salad)
£9.99
German Mixed Donner
(lamb+chicken, turkish bread, garlic mayo and salad)
£9.99
Messy Lamb Donner
(lamb, chili, jalapenos, cheese, garlic mayo, turkish bread and salad)
£10.99
Messy Chicken Donner
(chicken, chili, jalapenos, cheese, garlic mayo, turkish bread and salad)
£10.99
Messy Mixed Donner
(lamb+chicken, chili, jalapenos, cheese, garlic mayo, Turkish bread and salad)
£10.99
Chicken Donner Large
(chicken, pitta and salad)
£9.99
Half Ass + Chips
(beef burger, cheese, lettuce, tomato, mayo)
£6.99
Fresh Chicken Burger + Chips
(chicken breast, cheese, lettuce, tomato, mayo)
£6.99
Single Veggie Burger + Chips
(veggie burger, cheese, lettuce, tomato, mayo)
£5.99
Alaska + Chips
(2 beef burgers, cheese, lettuce, tomato, mayo)
£8.95
Mexican + Chips
(2 beef burgers, cheese, jalapeno, lettuce, tomato, mayo)
£8.95
Rhodeo + Chips
(2 chicken breasts, cheese, lettuce, tomato, mayo)
£8.95
Hawaii + Chips
(2 beef burgers, cheese, lettuce, tomato, pineapple, mayo)
£8.95
No Meat + Chips
(2 veggie burgers, cheese, lettuce, tomato, mayo)
£8.95
Arizona + Chips
(beef burger, chicken breast, cheese, lettuce, tomato, mayo)
£8.95
Megastoke + Chips
(2 beef burgers, chicken breast, cheese, lettuce, tomato, mayo)
£9.95
Lamb Döner Burger
(Lamb Doner, cheese, lettuce, tomato, mayo)
£6.99
Halloumi Burger + Chips
(Halloumi, cheese, lettuce, tomato, mayo)
£5.99
Piri-Piri Lamb Doner
Lamb Doner, Salad, Pitta, Piri-Piri Sauce
£9.50
Piri-Piri Chicken Doner
Chicken Doner, Salad, Pitta, Piri-Piri Sauce
£9.50
Piri-Piri Mix Doner
Mix Doner, Salad, Pitta, Piri-Piri Sauce
£10.50
Lamb Shish (Skewer) Large
Cubed lamb, wrap bread & salad
£10.50
Chicken Shish (Skewer) Regular
Cubed chicken, wrap bread & salad
£6.50
Chicken Shish (Skewer) Large
Cubed chicken, wrap bread & salad
£9.50
Mixed Shish (Skewer) - Large
Cubed lamb & chicken, wrap bread & salad
£10.50
Kofte Kebab (Skewer) Regular
Kofte, wrap bread & salad
£6.50
Kofte Kebab (Skewer) Large
Kofte, wrap bread & salad
£9.50
Lamb Chops
Salad & wrap bread
£14.99
Lamb Shish (Skewer) Regular
Cubed lamb, wrap bread & salad
£6.50
Lamb Saute (Kavurma)
Lamb, peper, onion, rice, wrap
£8.99
Single Mixed Grill
Chicken, Lamb Shish, Lamb Doner, Rice, Salad, Pitta Bread
£14.99
Shish House Plate
Lamb/Chicken Shish, Lamb/Chicken Doner, Kofte Kebab, Rice, Salad, 2 Pitta Bread
£23.00
Family Plate
2 Chicken Shish, 2 Lamb Shish, 2 Kofte Shish, Salad, 4 Pitta Bread, Rice, Regular Chips
£35.00
Lamb Donner Wrap
Served with salad
£6.00
Chicken Donner Wrap
Served with salad
£6.00
Veggie Wrap
Served with salad
£6.00
Falafel Wrap
Served with salad
£6.00
Mixed Wrap
Served with salad
£6.00
Messy Lamb Wrap
Lamb with midium hot recipe and salad
£7.00
Messy Chicken Wrap
Chicken with midium hot recipe and salad
£7.00
Messy Mix Wrap
Lamb and chicken with midium hot recipe and salad
£7.00
Chicken Breast Wrap
Chicken breast, served with salad, mayo
£7.00
Halloumi Wrap
Halloumi cheese, served with salad, mayo
£7.00
Contact Us
Find Us
3 May Place, Hants, RG217NX
We deliver to
RG21, RG22, RG23, RG24, RG25, RG26, RG27, RG29